Jebina & Andrew
Hoping to Adopt
(Texas)
Posts
Lazy River
We had a blast going down the lazy river at the lost pines resort in Cedar Creek, TX.
3 Days in the Wilderness
We had the most amazing time (primitive) camping in Boundary Waters, Minnesota. We canoed 2 hours deep into the woods and found the most perfect island to camp out for 3 days. All 3 of us returned home to Texas in absolute bliss.
A kiss from a donkey
One of our adventures on our stay at a Farm.
Snuggle Time
Snuggle time with Daddy after a long soccer game.
Crawfish!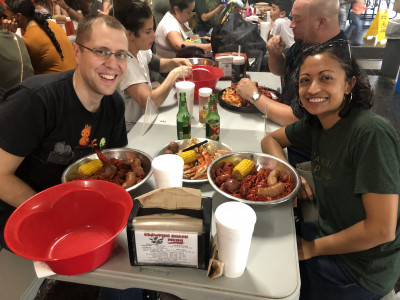 Enjoying the first crawfish of the season for our date night.
Dim Sum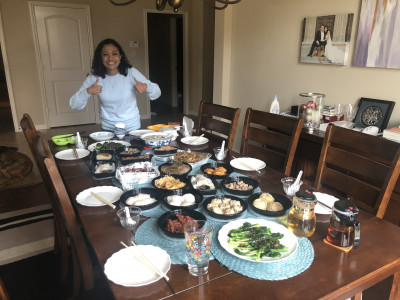 You know you have awesome friends when you say you are hungry for Dim Sum and this is what shows up!
Christmas 2020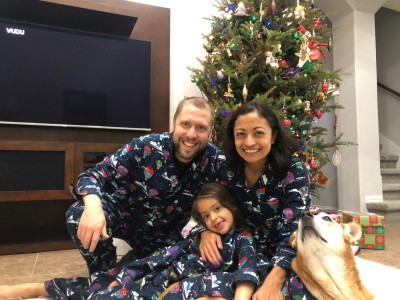 Well another year is almost done. Time to put way the matching Christmas PJs until next year!
Our Saturday Mornings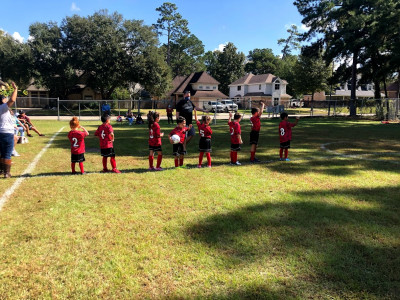 Our Saturday mornings are usually out on the soccer field cheering for #5! Jebina played soccer in middle school and high school. She is super excited to be out in the soccer field cheering.
Home is where the Heart is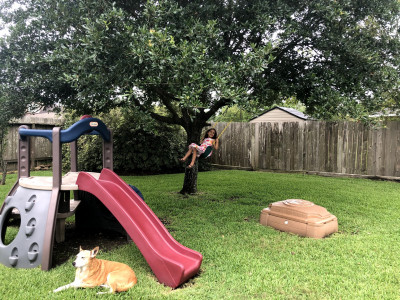 We live in a tightly knit cul-de-sac were everyone knows each other. When the weather is nice all the kids come out to play in the front yards, and when the weather is bad we have house parties. We enjoy walks and bike rides around the lakes not far from our house. There are also several playgrounds close by. On hot days we cool off at the local pool and the splash pad.
Family Fun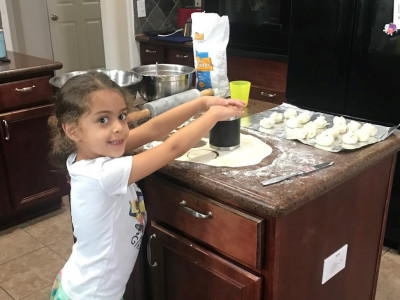 We love to cook. Jebina loves to experiment and cook foods from all over the world. Andrew loves to bake bread, cakes and cookies. Nora likes to help and taste test. Another taste tester is needed! We love to travel. We believe traveling is good for the soul, broadens horizons, and teaches compassion and empathy. We want to raise kind and happy kids that have seen the world.
Mykonos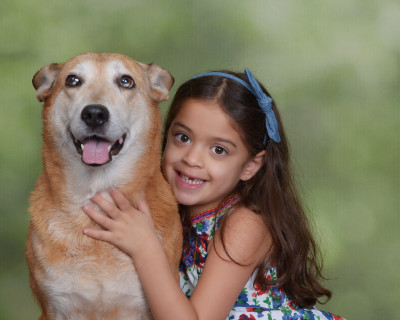 Mykonos is the most calm, sweet, and patient dog. She is loved by all of the kids in the neighborhood. She loves long walks in the woods, chasing squirrels, and naps in the sun. Mykonos goes everywhere with the family.
Nora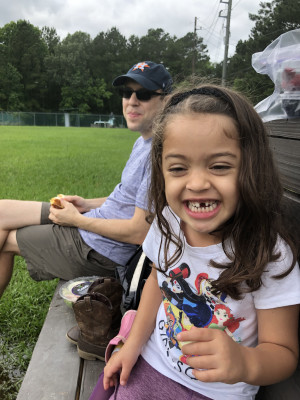 Nora is silly, fun, energetic, and loving. She loves to play outside with her friends, and hopes to be a vet one day for "cute" animals. She cannot wait to be a big sister so she can play princesses and dress in matching Star Wars costumes for Halloween.